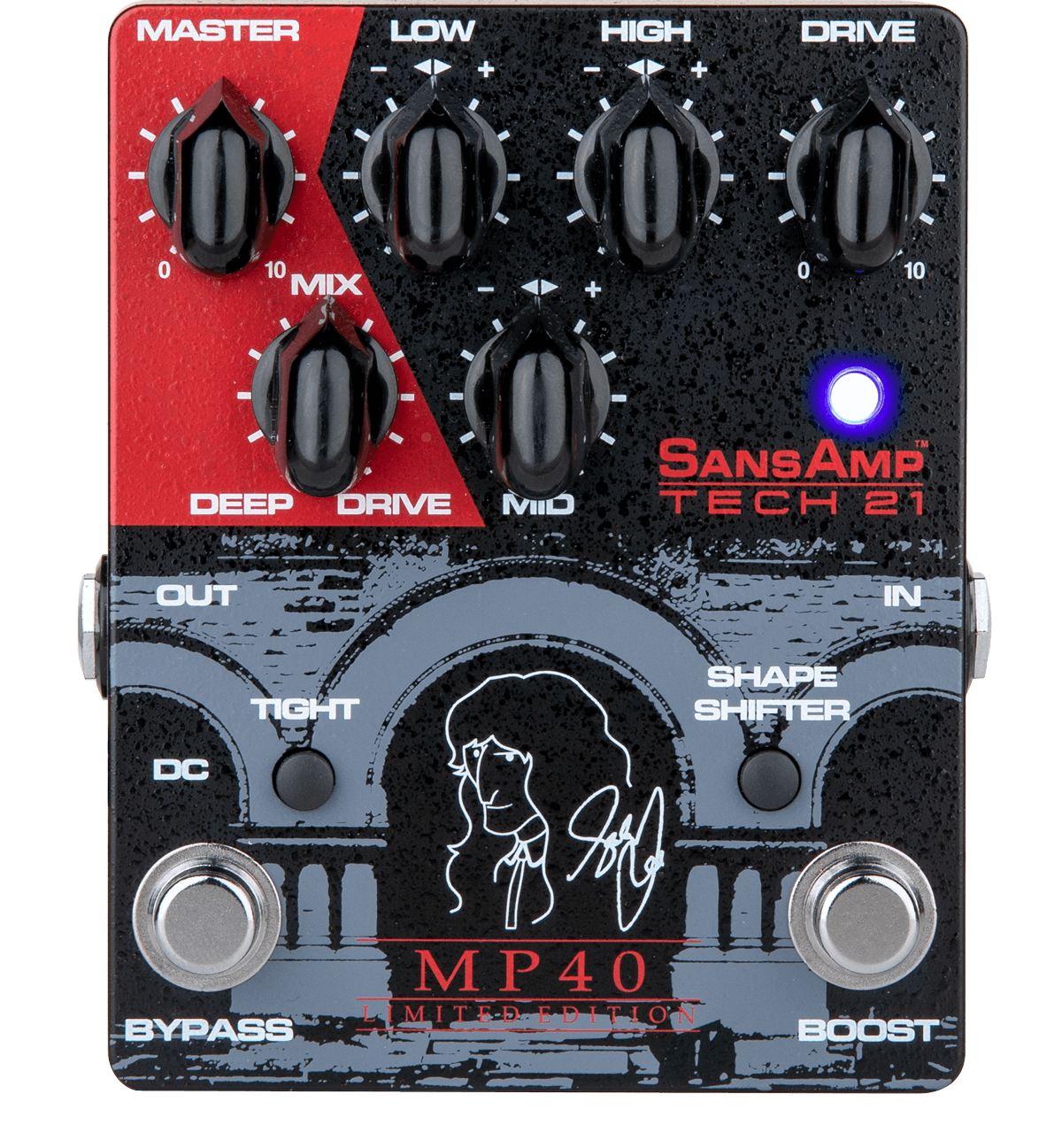 Based on the original Geddy Lee YYZ Signature SansAmp pedal, the Geddy Lee MP40 Limited Edition Signature SansAmp celebrates the 40th Anniversary of "Moving Pictures." This was a milestone album for RUSH that sold over 5 million copies, and a major turning point in Geddy Lee's bass tone. "Moving Pictures" captivated and influenced generations of bass players, and continues to do so to this day. 
Custom "Moving Pictures" Inspired Artwork
The Geddy Lee MP40 Limited Edition pays tribute to the iconic album cover designed by Hugh Syme with a new black and red color scheme and custom artwork.
All-New Shape-shifter Button and Footswitchable Boost
The all-analog MP40 SansAmp builds upon the original YYZ pedal with a brand new selectable Boost stomp switch that provides a 12dB presence boost for increased top-end distortion. Additionally, engaging the Shape-shifter button gives you 6dB of Schmegilka on top, which, according to Geddy, "is an indefinable thing of awesomeness!"
Read on for all the details…
MP40 Limited Edition Features
• All analog SansAmp technology enables you to record directly and enhance previously recorded tracks. For live performances, the MP40 can drive a power amp and speakers, augment your existing amplifier set-up, or run directly into the mixer of a PA system.
• Mix control to blend the ratio of high-end studio clean (Deep) and dirty bass tube amp tones (Drive).
• Tight button to add definition to your notes in cleaner settings and make distorted tones snappier.
• Boost / Shape-shifter selectable Boost function deviates from the norm. It provides a 12dB presence boost for increased top-end distortion. Kick in the Shape-shifter button, and get 6dB of Schmegilka on top, which, according to Geddy "is an indefinable thing of awesomeness!"
• Drive adjusts the overall amount of gain and overdrive, similar to when the output section of a tube amp is being pushed.
• Active 3-band EQ.
• Master volume.
• Measures 3.75″ x 4.75″ x 2″
• Operable with 9V alkaline battery (not included).
• Optional DC power supply is available:
Tech 21 model #DC9. Click HERE.
(Also operable with former models #DC2 and #DC4).
Sample settings in the owner's manual include:
• Geddy Lee's Personal Setting
•  YYZ
•  Rickenbacker Shape-shifter
•  Camera Eye
•  Red Barchetta
•  Warm Tube/Studio
•  Bi-amped Overdrive
From a Backline of Amps, Speakers and Major Household Appliances to a Full Line of Amazing Products
In 1996, Geddy Lee began performing without onstage amps and speakers, favoring major household appliances instead. He relied on an intricate system of off-stage gear, which included the SansAmp RBI and/or SansAmp RPM.  After the R40 tour, Geddy wanted to streamline his gear for new projects and partnered with Tech 21 to design a Signature SansAmp, the GED-2112. This challenging collaboration involved distilling a rackload of equipment into a single rackspace. According to Geddy, "The GED-2112 is really a continuation of my long-time approach to bass tone.  A 'deep clean' tone coupled with the 'edgy crunch' I get from the SansAmp RPM now all in one box."
The GED-2112 rackmount design introduced a new framework for Parallel Pre-Amping –having two separate internal pre-amps that run in parallel. Following this concept, the compact YYZ SansAmp pedal adapted the architectural structure to simplify blending the two signal paths. Merging the design of the rackmount and the portability of the pedal, the DI-2112 SansAmp offers yet another format designed to be equally at home on a studio desktop as well as an amp top.
No matter which Geddy Lee Signature SansAmp you choose, each offers Geddy's core sound and the versatility for many different styles.